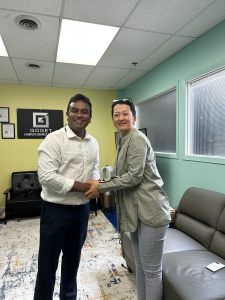 The Canadian Experience Class (CEC) under Express Entry: Your Fast-Track to Canadian Permanent Residency
Welcome to [GuideMeImmigration.com](http://www.guidemeimmigration.com), your trusted source for all things related to Canadian immigration. Today, we shed light on one of Canada's most sought-after immigration programs – the Canadian Experience Class (CEC) under the Express Entry system.
What is the Canadian Experience Class (CEC)?
The CEC is tailor-made for temporary foreign workers and international students who have garnered Canadian work experience. It recognizes the contributions of these individuals and offers them a quicker path to becoming a permanent resident, given their familiarity with Canadian society and the job market.
Key Requirements for the CEC:
Work Experience in Canada: Applicants must have a minimum of one year (1,560 hours total or 30 hours per week) of skilled work experience in Canada within the last three years. This experience must be in Managerial jobs (NOC skill level 0), Professional jobs (NOC skill type A), or Technical jobs and skilled trades (NOC skill type B).
Language Proficiency: Depending on your job's NOC code, you'll need to meet or exceed a certain CLB (Canadian Language Benchmark) level in English or French in all four language competencies: speaking, reading, listening, and writing.
Plan to Live Outside Quebec: The province of Quebec has its own immigration program, so the CEC is for those who intend to live outside Quebec.
The Express Entry System & CEC:
Express Entry is Canada's flagship system for skilled immigration. Candidates create a profile, and those who meet the criteria for one of the federal economic immigration programs, including the CEC, enter the Express Entry pool. Points are assigned based on factors like age, education, work experience, and language proficiency. The highest-ranking candidates are then invited to apply for permanent residency through regular draws.
Why Consider the CEC?
Streamlined Process: With processing times of a few months, the CEC under Express Entry is one of the fastest paths to Canadian permanent residency.
No Education Requirement: Unlike other streams, the CEC doesn't mandate a formal education, though having a post-secondary education can boost your Express Entry points.
Local Experience Valued: Canadian work experience is highly valued, not only for CEC eligibility but also within the Comprehensive Ranking System (CRS) of Express Entry.
In Summary:
The Canadian Experience Class offers an excellent opportunity for those familiar with Canadian society, thanks to their work experience in the country, to transition seamlessly to permanent residency.
Thinking of leveraging your Canadian work experience for permanent residency? Let [GuideMeImmigration.com](http://www.guidemeimmigration.com) be your compass. Our team of experienced consultants is here to guide you at every step of your Express Entry journey.
Stay informed and let's embark on your Canadian dream together!
(Note: It's always advisable to consult the official CEC website or seek guidance from immigration experts at GuideMeImmigration.com to understand the program's nuances and updates.)